LPC Distinguished Researcher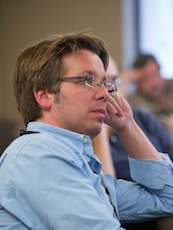 Institution:
University of Bristol
Email:
What I will be working on:
I am working mainly on hadronic searches, in particular searches for dark matter. With the LPC I will study novel dark matter and develop, optimised search strategies considering CMS hardware upgrades and future trigger performance. I as well plan to work with LPC members on MC production for CMS.
My role in CMS past and present:
Having joined CMS two years ago I am working on L1 triggering, hadronic searches and I am presently one of the conveners of the MC & Interpretation.